Android is an open-source, customizable mobile operating system created by Google for use on touchscreen devices. It's the most popular operating system in use today. While mainly installed on smartphones, it is also in use on other smart devices such as TVs and watches.
Course Overview
In this 4 month internship from soften Technologies, you'll learn the basics of building Android apps. Along the way, you'll develop a collection of apps to start your journey as an Android developer. Due to its open-source nature, working with this platform necessitates constantly learning about the Android platform. soften's Android development program keep you ahead of this learning curve, with courses on Android operating systems and more. The  platform is increasingly popular with developers, and a dominant force in the global smartphone market. As more businesses develop mobile apps for customer engagement,
development skills are likely to stay in high demand.
Android development is a software creation process that focuses on applications, better known as apps, that are compatible with devices running the Android operating system (OS). Because Android is an open-source project, developers have easy access to the Android software development kit (SDK). Many use this kit in conjunction with Kotlin, Java, and C++ programming languages to make their apps. The  SDK tools compile your code along with any data and resource files into an APK, or Android package, which is an archive file that uses an .apk suffix. One APK file contains all Android app contents used by devices to install your app. When the app is complete and ready for release, Android developers can upload their apps to the Google Play Store for users to download.
With over 2.5 billion active Android users globally, Android development is a valuable skill that can help you enhance your career. The development skills are in-demand around the world with various organizations across a broad range of industries. When these organizations build Android apps natively, the top three programming languages are typically Java, Kotlin, and C++. You can also look for a job in Android development that uses cross-platform solutions like Flutter or React Native.
Eligibility for  program :- Degree  with IT Background and 50% of marks, classes available both in online and offline. Our well qualified faculty will lead you to success and Soften Technologies' most important quality is experience. With 10+ years of success , Soften Technologies' assure 100% placement assistance.
In a nutshell, a scope is a space where we are maintaining instances for a specific duration of time.
An Android Developer is responsible for developing Android Applications for devices that are powered by Android Operating System. An Android Developer not only develops Android Application's but also remove bugs, update software, software maintenance, etc.
In today's world, everything is shifted online and also most people will more user-friendly with Mobile as compared to desktop and PC. So out of the 2.5 billion's people are Android device user's so due to this the demand, Android Developer's increased rapidly. Thus, Android developers have great Job Scope in the Industry. In India, nearly 67 % out of 100% of mobile Developers are Android developers, the rest 21% Developers are iOS Developer's, 10 % both Android and iOS, and the remaining developers are Window's App Developer's. As the percent of Android developers are more it means it is the most demanding skill in India. As it  is the most used Operating System in the world thus demand for skilled Android developers is increased day by day even he is a fresher or an experienced person. In Job portals like LinkedIn, GeeksforGeeks, Naukri.com, glassdoor, and Company's Career Page one can find a number of jobs regarding Android Developer as an Intern, Freelancer, or full-time opportunity as well.
Course Topics
It is  most preferred for its ease of use and user-friendly interface which can be learned easily. Android Development Training in Soften will empower you with the knowledge of visualizing,  building,  programming and publishing an  application.
Soften's methodology emphasizes on delivering industry- standard- mobility training enabling the students to learn to develop their mobility apps from the beginning. Our approach involves live demonstration on creating an application which helps the learners to internalize the process and  reproduce it in their way and carve a niche for themselves in the industry. Become an Android Developer & Fast-track Your Career.
The main noteworthy features of android are:
All applications are created equally.
Fast and easy Application development.
It is "Open Source" model which makes it unique.
Main Topics Covered
Core java
Android Studio
Sdk & avd
Android Manifest.xm
UI Designing
Sqlite Database
Kotlin
GPS
Multimedia
Google map
Bluetooth and wifi Connectivity
Flutter
Android with php mysql
API Testing Using Storage
Internal And External Storage
Jet Pack
Soften Technologies is the No. 1 Frontrunner professional IT training Company in Kerala. We are having 12 plus years of experience in this sector and is distinguished from a mediocre one by factors like alumni, track records, facilities, and faculty members. Soften trained above thirty thousand plus satisfied IT experts.
We have well-structured courses and effective training methodology. The curriculum must cover different spectrums of the industry and provide the students with in-depth knowledge. Soften ensures quality and updated training for every trainee to cope with the ever-updating IT industry. Even after the completion of your course, the materials that you have been provided should act as a good technical reference.
Faculty members with core industry experience. All our trainers are IT professionals with having 7+ years of Industry Experience. They not only teach the course curriculum but also provide hands-on training to the students and enrich their learning with their own professional experiences. While choosing Soften, you can make a point to interact with the faculty to get to know them better as your career guide.
We Soften Technologies is your ticket to the corporate world. The objective of joining a course is to secure a coveted job which will advance your career. Our students are well placed across the globe. We are having a very good track record of placements. You can speak with our alumni directly to find out how we assist during an interview at a renowned enterprise.
We have well-equipped lab with the necessary facilities and amenities. State-of-the-art and modern infrastructure will enhance your educational experience and help you to hone your skills the right way.
Training Type
Batch Timings
For the latest training schedule, please Contact @ 8129701739
Weekdays    ( Monday -Friday )
Early Morning   (7.30-9.30) , (7.30-10.30)
Morning  ( 9 AM – 12 PM)
Afternoon ( 12-3 PM)
Evening ( 3PM – 5.30 PM), ( 3PM – 6 PM)
Weekend Batches
Saturday / Sunday  ( 7.30 AM – 3 PM), ( 9 –5 PM)
Fastrack
Based on Candidate's Requirement.
Training is available in small groups as well as on one-to-one basis.
STED COUNCIL (Scientific & Technical Education Development Council)
Affiliated to STED COUNCIL (NGO under NCT, New Delhi, Govt. of India.)
COLLABORATIVE PARTNER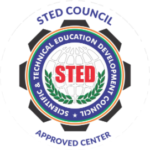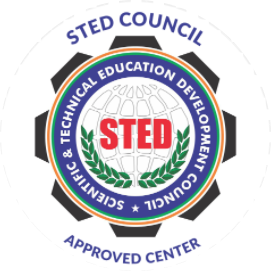 The STED council stays abreast with the update technologies and partner with the best in the industry to give quality education worldwide in global format.
The Merit Certificates issued by STED COUNCIL are accredited and recognized by globally renowned consultants, institutions and quality management, international accreditation organisations making certificate valid across the world and creating immense opportunities for each and every passing out student in the world job market
National Council for Technology & Training (NACTET)
Affiliated to NACTET
Authorized Training Partner
National Council for Technology and Training (NACTET) is an autonomous organization registered under Govt of Kerala and Government of India NCT, New Delhi under Indian trust act. The objective is to create a workforce empowered with improved skills, knowledge and internationally recognized qualifications to gain access to decent employment and ensure India`s competitiveness in the dynamic Global Labour market.
Placements
We help our students get placed in the best IT companies in the world.