300-710 SNCF: Securing Networks with Cisco Firepower
The Cisco firepower training is targeted to engineers and technical personnel involved in deploying, implementing, operating, and optimizing Network security in enterprise environments.
Course Overview
CCNP Security certification to help you prove your skills in the ever-changing landscape of security technologies. The certification covers core technologies and a security focus area of your choice. You choose where you want to focus. You choose where to take your career.
Course contents are based on the Cisco Firepower course outlines.
Dedicated Monitoring to evaluate and report candidates progress
Extensive hands-on lab exercises
Industry-acclaimed, experienced and certified instructors
Course Topics
Lab Sessions and More Details will be Furnished at Official Proceedings…
Cisco Firepower Threat Defense Overview
Cisco Firepower NGFW Device Configuration
Cisco Firepower NGFW Traffic Control
Cisco Firepower NGFW Address Translation
Cisco Firepower Discovery
Implementing Access Control Policies
Security Intelligence
File Control and Advanced Malware Protection
Next-Generation Intrusion Prevention Systems
Site-to-Site VPN
Remote-Access VPN
SSL Decryption
Detailed Analysis Techniques
System Administration
Cisco Firepower Troubleshooting
Soften Technologies is the No. 1 Frontrunner professional IT training Company in Kerala. We are having 12 plus years of experience in this sector and is distinguished from a mediocre one by factors like alumni, track records, facilities, and faculty members. Soften trained above thirty thousand plus satisfied IT experts.
We have well-structured courses and effective training methodology. The curriculum must cover different spectrums of the industry and provide the students with in-depth knowledge. Soften ensures quality and updated training for every trainee to cope with the ever-updating IT industry. Even after the completion of your course, the materials that you have been provided should act as a good technical reference.
Faculty members with core industry experience. All our trainers are IT professionals with having 7+ years of Industry Experience. They not only teach the course curriculum but also provide hands-on training to the students and enrich their learning with their own professional experiences. While choosing Soften, you can make a point to interact with the faculty to get to know them better as your career guide.
We Soften Technologies is your ticket to the corporate world. The objective of joining a course is to secure a coveted job which will advance your career. Our students are well placed across the globe. We are having a very good track record of placements. You can speak with our alumni directly to find out how we assist during an interview at a renowned enterprise.
We have well-equipped lab with the necessary facilities and amenities. State-of-the-art and modern infrastructure will enhance your educational experience and help you to hone your skills the right way.
Training Type
Batch Timings
For the latest training schedule, please Contact @ 8129701739
Weekdays    ( Monday -Friday )
Early Morning   (7.30-9.30) , (7.30-10.30)
Morning  ( 9 AM – 12 PM)
Afternoon ( 12-3 PM)
Evening ( 3PM – 5.30 PM), ( 3PM – 6 PM)
Weekend Batches
Saturday / Sunday  ( 7.30 AM – 3 PM), ( 9 –5 PM)
Fastrack
Based on Candidate's Requirement.
Training is available in small groups as well as on one-to-one basis.
STED COUNCIL (Scientific & Technical Education Development Council)
Affiliated to STED COUNCIL (NGO under NCT, New Delhi, Govt. of India.)
COLLABORATIVE PARTNER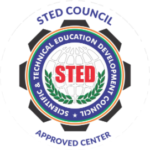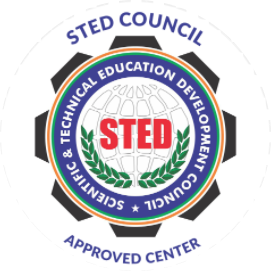 The STED council stays abreast with the update technologies and partner with the best in the industry to give quality education worldwide in global format.
The Merit Certificates issued by STED COUNCIL are accredited and recognized by globally renowned consultants, institutions and quality management, international accreditation organisations making certificate valid across the world and creating immense opportunities for each and every passing out student in the world job market
National Council for Technology & Training (NACTET)
Affiliated to NACTET
Authorized Training Partner
National Council for Technology and Training (NACTET) is an autonomous organization registered under Govt of Kerala and Government of India NCT, New Delhi under Indian trust act. The objective is to create a workforce empowered with improved skills, knowledge and internationally recognized qualifications to gain access to decent employment and ensure India`s competitiveness in the dynamic Global Labour market.