Manual Accounting
Manual accounting refers to the process of recording financial transactions by hand, without the use of computerized systems. This method of accounting has been used for centuries and is still used by some small businesses, especially those with simple accounting needs.
The process of manual accounting involves recording transactions in journals, such as the cash receipts journal, cash disbursements journal, and general journal. These journals are then used to create the general ledger, which summarizes all financial transactions in one place. From there, financial statements such as the balance sheet and income statement can be created.
Course Overview
Manual accounting is the process of recording financial transactions manually using pen and paper, rather than using computerized accounting software. It is a traditional accounting method that has been used for centuries, and is still used by some businesses and organizations today.
If you are interested in learning manual accounting, there are several courses available that can teach you the basics. These courses typically cover topics such as general ledger accounting, double-entry accounting, journal entries, trial balances, and financial statements.
One of the main advantages of learning manual accounting is that it can help you develop a deep understanding of accounting principles and concepts. Because you are recording transactions manually, you have to be very careful and precise in your work. This can help you develop strong analytical skills, attention to detail, and a good understanding of financial statements.
Another advantage of manual accounting is that it can be more cost-effective than using computerized accounting software. With manual accounting, you do not need to purchase expensive software or hardware, and you do not need to pay for ongoing updates or maintenance.
However, there are also some disadvantages to manual accounting. One of the main disadvantages is that it can be time-consuming and labor-intensive. Because you are recording transactions manually, you have to spend a lot of time writing down numbers and calculating balances. This can be tedious and can take away from other important tasks that you need to complete.
While manual accounting can be time-consuming and prone to errors, it does have some advantages. For example, it can be less expensive than computerized accounting systems, as it does not require specialized software or hardware. Additionally, it can be easier to understand and control the process when everything is written down on paper.
However, the drawbacks of manual accounting include the potential for errors and the need for frequent manual reconciliations to ensure accuracy. It can also be slower and more labor-intensive than computerized systems, especially when dealing with large volumes of transactions.
Overall, while manual accounting has its place in certain situations, many businesses find that computerized accounting systems offer greater efficiency and accuracy.
Course Topics
Manual accounting is the process of recording financial transactions by hand, without the use of any software or electronic devices. It is the traditional way of doing accounting and is still used by many small businesses today.
A course in manual accounting would cover topics such as journal entries, general ledger accounts, trial balances, financial statements, and closing entries. Students would learn how to record transactions using journals and ledgers, how to prepare financial statements, and how to analyze and interpret financial data.
One of the benefits of learning manual accounting is that it provides a strong foundation for understanding the principles of accounting. By learning how to do accounting manually, students gain a deeper understanding of the underlying concepts and principles that govern the field of accounting. This knowledge can then be applied to the use of accounting software, which is becoming increasingly common in today's business world.
Another benefit of learning manual accounting is that it can be a valuable skill for those who wish to work in small businesses or non-profit organizations that may not have the resources to invest in expensive accounting software. Being able to perform accounting tasks manually can also be useful in situations where technology is not available or when there is a power outage or other technical difficulties.
Overall, a course in manual accounting can provide a solid foundation for anyone interested in pursuing a career in accounting or finance. By learning the fundamental principles of accounting through manual processes
Soften Technologies is the No. 1 Frontrunner professional IT training Company in Kerala. We are having 12 plus years of experience in this sector and is distinguished from a mediocre one by factors like alumni, track records, facilities, and faculty members. Soften trained above thirty thousand plus satisfied IT experts.
We have well-structured courses and effective training methodology. The curriculum must cover different spectrums of the industry and provide the students with in-depth knowledge. Soften ensures quality and updated training for every trainee to cope with the ever-updating IT industry. Even after the completion of your course, the materials that you have been provided should act as a good technical reference.
Faculty members with core industry experience. All our trainers are IT professionals with having 7+ years of Industry Experience. They not only teach the course curriculum but also provide hands-on training to the students and enrich their learning with their own professional experiences. While choosing Soften, you can make a point to interact with the faculty to get to know them better as your career guide.
We Soften Technologies is your ticket to the corporate world. The objective of joining a course is to secure a coveted job which will advance your career. Our students are well placed across the globe. We are having a very good track record of placements. You can speak with our alumni directly to find out how we assist during an interview at a renowned enterprise.
We have well-equipped lab with the necessary facilities and amenities. State-of-the-art and modern infrastructure will enhance your educational experience and help you to hone your skills the right way.
Training Type
Batch Timings
For the latest training schedule, please Contact @ 8129701739
Weekdays    ( Monday -Friday )
Early Morning   (7.30-9.30) , (7.30-10.30)
Morning  ( 9 AM – 12 PM)
Afternoon ( 12-3 PM)
Evening ( 3PM – 5.30 PM), ( 3PM – 6 PM)
Weekend Batches
Saturday / Sunday  ( 7.30 AM – 3 PM), ( 9 –5 PM)
Fastrack
Based on Candidate's Requirement.
Training is available in small groups as well as on one-to-one basis.
STED COUNCIL (Scientific & Technical Education Development Council)
Affiliated to STED COUNCIL (NGO under NCT, New Delhi, Govt. of India.)
COLLABORATIVE PARTNER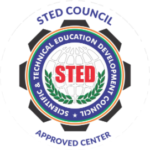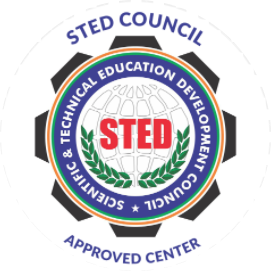 The STED council stays abreast with the update technologies and partner with the best in the industry to give quality education worldwide in global format.
The Merit Certificates issued by STED COUNCIL are accredited and recognized by globally renowned consultants, institutions and quality management, international accreditation organisations making certificate valid across the world and creating immense opportunities for each and every passing out student in the world job market
National Council for Technology & Training (NACTET)
Affiliated to NACTET
Authorized Training Partner
National Council for Technology and Training (NACTET) is an autonomous organization registered under Govt of Kerala and Government of India NCT, New Delhi under Indian trust act. The objective is to create a workforce empowered with improved skills, knowledge and internationally recognized qualifications to gain access to decent employment and ensure India`s competitiveness in the dynamic Global Labour market.
Placements
We help our students get placed in the best IT companies in the world.