Why Asp.NET
. NET is a free, cross-platform, open source developer platform for building many different types of applications. With. NET, you can use multiple languages, editors, and libraries to build for web, mobile, desktop, games, and IoT. Getting certified in .NET will open up a plethora of opportunities for a professional. Also as a matter of fact, a certified .NET developer gets paid well then their non-certified counterparts.
Course Overview
.NET certification course is a comprehensive introduction to the. NET space and. NET coding using C#. This course lays the foundation for the major aspects of. NET development, including the Visual Studio Environment, data connections, the C# language, and WinForms and Web Forms projects.
Soften Technologies offers a Four-month internship program, available both in online and offline mode classes.
.NET are both well-established and are used for enterprise-level development. That means you might land a job at a huge company with lots of resources and opportunities.
This .NET certification course is ideal for anyone with an interest in creating their own projects from scratch, people who want to gain an understanding of Visual Studio and .NET development, and people who want to learn programming through pragmatic examples instead of endless explanations.
Lecture, simulations and participatory role-play exercises are intermingled to make the learning effective and interesting. Practical classes follow lectures whereby the theories are put into practice and logical aptitude of the student tested and polished. Experienced tutors review the performance of each student and appropriate guidance is given with practical insights to enhance their programming language skills and logical thinking so that they handle IT/software projects with ease.
Our instructors are experienced software professionals conversant with industrial training environment. They will provide effective guidance on practical skills and techniques that can only be provided only by well-experienced software professionals. You will reap the benefits of decades of software expertise, delivered through intensive and interactive classroom experience.
A typical software application has three layers – front-end, middleware, and back-end. In the case of a web application, the front-end is the web pages that are usually written in HTML and JavaScript hosted in ASP.NET. A middleware is usually written in C# as a library or API. A back-end is a code that runs on a Web server (IIS) and talks to a data source.
No wonder, we bridge the gap between what academies taught and what industries need. We provide 100% placement assistance for our students.
Today, software runs the world. Software is not just for web, windows, or mobile. Your car is managed by a software. Your TV runs on software. NET. New homes are powered by software that includes thermostats, bulbs, fans, security, internet, and door locks. Weather is monitored by software. Your watch notifications are a work of software. .NET is a unified platform to build app kinds of software applications.
.NET is modern and designed to build modern software applications. .NET takes advantages of modern capabilities available in modern browsers, cloud, and other devices. The scope of .NET is wide. The future of .NET is very bright. .NET is a complete full-stack framework used to build entire large enterprise-scale and scalable software applications. .NET is modern, fast, flexible, and friendly and works well with other technologies. A dot net developer creates applications for the web browsers using preferably C# language. . NET platform used to work only for Windows but now with the introduction of ASP.NET, the dot net developer could create applications that can be run on different platforms like Linux, macOS, and Windows.
With these wider scope and opportunities of .NET, career options are more wider; Soften Technologies build you to a ready professional. After completing .NET course from Soften Technologies, you can work as a .NET Developer.
Course Topics
SoftenTechnologies provides a series of walk-throughs & lab assignments, which introduce and explain it features to practice Windows and Web applications. Through our Internships, the beginners can gain in-depth knowledge in each and every topic. The .Net framework can be used to create both Form based and Web based applications. Web services can also be developed using the .Net framework.
MVC (Model-View-Controller)
MVC is an architectural pattern that separates an application into three main logical components:  the model, the view, and the controller. MVC is one of the most frequently used industry-standard web development framework to create scalable and extensible projects.
.NET Core
.NET Core is a cross-platform . It implementation for websites, servers, and console apps on Windows, Linux, and Mac OS.
C#.net
net
html 5
css
javascript
jquery
bootstrap
angular js
angular 2+
net
sql
sql stored Procedure
3-tire architecture
Mvc
Entity framework
Wcf
Linq
Ajax
web api
.net core
crystal reports
Soften Technologies is the No. 1 Frontrunner professional IT training Company in Kerala. We are having 12 plus years of experience in this sector and is distinguished from a mediocre one by factors like alumni, track records, facilities, and faculty members. Soften trained above thirty thousand plus satisfied IT experts.
We have well-structured courses and effective training methodology. The curriculum must cover different spectrums of the industry and provide the students with in-depth knowledge. Soften ensures quality and updated training for every trainee to cope with the ever-updating IT industry. Even after the completion of your course, the materials that you have been provided should act as a good technical reference.
Faculty members with core industry experience. All our trainers are IT professionals with having 7+ years of Industry Experience. They not only teach the course curriculum but also provide hands-on training to the students and enrich their learning with their own professional experiences. While choosing Soften, you can make a point to interact with the faculty to get to know them better as your career guide.
We Soften Technologies is your ticket to the corporate world. The objective of joining a course is to secure a coveted job which will advance your career. Our students are well placed across the globe. We are having a very good track record of placements. You can speak with our alumni directly to find out how we assist during an interview at a renowned enterprise.
We have well-equipped lab with the necessary facilities and amenities. State-of-the-art and modern infrastructure will enhance your educational experience and help you to hone your skills the right way.
Training Type
Batch Timings
For the latest training schedule, please Contact @ 8129701739
Weekdays    ( Monday -Friday )
Early Morning   (7.30-9.30) , (7.30-10.30)
Morning  ( 9 AM – 12 PM)
Afternoon ( 12-3 PM)
Evening ( 3PM – 5.30 PM), ( 3PM – 6 PM)
Weekend Batches
Saturday / Sunday  ( 7.30 AM – 3 PM), ( 9 –5 PM)
Fastrack
Based on Candidate's Requirement.
Training is available in small groups as well as on one-to-one basis.
STED COUNCIL (Scientific & Technical Education Development Council)
Affiliated to STED COUNCIL (NGO under NCT, New Delhi, Govt. of India.)
COLLABORATIVE PARTNER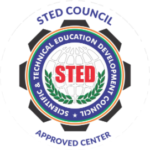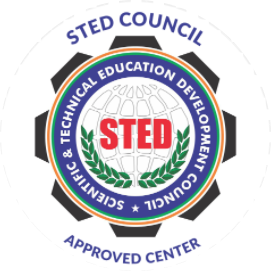 The STED council stays abreast with the update technologies and partner with the best in the industry to give quality education worldwide in global format.
The Merit Certificates issued by STED COUNCIL are accredited and recognized by globally renowned consultants, institutions and quality management, international accreditation organisations making certificate valid across the world and creating immense opportunities for each and every passing out student in the world job market
National Council for Technology & Training (NACTET)
Affiliated to NACTET
Authorized Training Partner
National Council for Technology and Training (NACTET) is an autonomous organization registered under Govt of Kerala and Government of India NCT, New Delhi under Indian trust act. The objective is to create a workforce empowered with improved skills, knowledge and internationally recognized qualifications to gain access to decent employment and ensure India`s competitiveness in the dynamic Global Labour market.
Placements
We help our students get placed in the best IT companies in the world.