Robotics
Robotics is a rapidly advancing field that is transforming the way we live and work. Robotics involves the design, development, and operation of robots that can perform a wide range of tasks autonomously or with human guidance. These tasks can range from simple tasks like cleaning floors to complex tasks like performing surgeries or exploring outer space.
Advances in robotics technology have led to the development of more intelligent and capable robots. These robots are equipped with sensors, actuators, and sophisticated software that enable them to interact with their environment and perform tasks with precision and accuracy.
Course Overview
Robotics is a rapidly growing field that has the potential to revolutionize the way we live and work. If you're interested in learning about the design, construction, and programming of robots, then a Robotics course might be just what you're looking for.
A Robotics course typically covers the basics of mechanical engineering, electrical engineering, and computer programming. You'll learn about the different components of a robot, including motors, sensors, and controllers, and how they work together to make the robot function. You'll also learn about the different types of robots, such as mobile robots, manipulator robots, and humanoid robots, and their various applications in industry, healthcare, and entertainment.
One of the primary goals of a Robotics course is to teach you how to design and build your own robot. You'll start by learning about the principles of robot design, such as kinematics, dynamics, and control theory. You'll then move on to designing the mechanical structure of your robot, choosing the right motors, sensors, and other components, and assembling them into a working robot.
Once you have a functioning robot, you'll need to program it to perform specific tasks. In a Robotics course, you'll learn about different programming languages and tools that are commonly used in robotics, such as Python, ROS (Robot Operating System), and MATLAB. You'll also learn about the different algorithms and techniques used in robot control, such as PID (Proportional Integral Derivative) control, path planning, and machine learning.
A Robotics course may also cover some advanced topics, such as swarm robotics, where multiple robots work together to achieve a common goal, and bio-inspired robotics, where robots are designed to mimic the behavior and functionality of biological organisms.
In addition to the technical skills you'll learn in a Robotics course, you'll also develop other important skills, such as problem-solving, critical thinking, and teamwork. Robotics projects often require collaboration between team members with different backgrounds and expertise, so you'll learn how to communicate effectively and work together to achieve a common goal.
Overall, a Robotics course can be a great way to learn about a fascinating and rapidly growing field. Whether you're interested in pursuing a career in robotics or simply want to learn more about this exciting technology, a Robotics course can provide you with the knowledge and skills you need to succeed.
Course Topics
Robotics is an exciting and rapidly advancing field that combines principles from computer science, engineering, mathematics, and physics to create intelligent machines that can sense, reason, and act in the physical world. In a robotics course, students can expect to learn about the principles and techniques used to design, build, program, and control robots.
One of the primary goals of a robotics course is to provide students with a strong foundation in the fundamentals of robotics. This includes topics such as kinematics, dynamics, control theory, sensors, and actuators. Students will learn how to design and build robots that can move, sense their environment, and interact with objects and people.
Another important aspect of a robotics course is programming. Students will learn how to program robots using languages such as C++, Python, and MATLAB. They will also learn about programming paradigms such as object-oriented programming and event-driven programming. Students will gain hands-on experience programming robots to perform tasks such as object recognition, navigation, and manipulation.
A robotics course may also cover specialized topics such as computer vision, machine learning, and artificial intelligence. These topics are essential for creating robots that can learn from their environment and adapt to new situations. Students will learn about machine learning algorithms such as neural networks, decision trees, and support vector machines, and how they can be used to train robots to recognize objects and perform complex tasks.
Soften Technologies is the No. 1 Frontrunner professional IT training Company in Kerala. We are having 12 plus years of experience in this sector and is distinguished from a mediocre one by factors like alumni, track records, facilities, and faculty members. Soften trained above thirty thousand plus satisfied IT experts.
We have well-structured courses and effective training methodology. The curriculum must cover different spectrums of the industry and provide the students with in-depth knowledge. Soften ensures quality and updated training for every trainee to cope with the ever-updating IT industry. Even after the completion of your course, the materials that you have been provided should act as a good technical reference.
Faculty members with core industry experience. All our trainers are IT professionals with having 7+ years of Industry Experience. They not only teach the course curriculum but also provide hands-on training to the students and enrich their learning with their own professional experiences. While choosing Soften, you can make a point to interact with the faculty to get to know them better as your career guide.
We Soften Technologies is your ticket to the corporate world. The objective of joining a course is to secure a coveted job which will advance your career. Our students are well placed across the globe. We are having a very good track record of placements. You can speak with our alumni directly to find out how we assist during an interview at a renowned enterprise.
We have well-equipped lab with the necessary facilities and amenities. State-of-the-art and modern infrastructure will enhance your educational experience and help you to hone your skills the right way.
Training Type
Batch Timings
For the latest training schedule, please Contact @ 8129701739
Weekdays    ( Monday -Friday )
Early Morning   (7.30-9.30) , (7.30-10.30)
Morning  ( 9 AM – 12 PM)
Afternoon ( 12-3 PM)
Evening ( 3PM – 5.30 PM), ( 3PM – 6 PM)
Weekend Batches
Saturday / Sunday  ( 7.30 AM – 3 PM), ( 9 –5 PM)
Fastrack
Based on Candidate's Requirement.
Training is available in small groups as well as on one-to-one basis.
STED COUNCIL (Scientific & Technical Education Development Council)
Affiliated to STED COUNCIL (NGO under NCT, New Delhi, Govt. of India.)
COLLABORATIVE PARTNER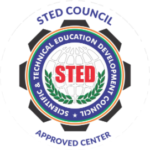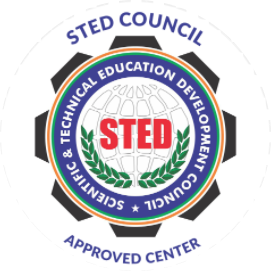 The STED council stays abreast with the update technologies and partner with the best in the industry to give quality education worldwide in global format.
The Merit Certificates issued by STED COUNCIL are accredited and recognized by globally renowned consultants, institutions and quality management, international accreditation organisations making certificate valid across the world and creating immense opportunities for each and every passing out student in the world job market
National Council for Technology & Training (NACTET)
Affiliated to NACTET
Authorized Training Partner
National Council for Technology and Training (NACTET) is an autonomous organization registered under Govt of Kerala and Government of India NCT, New Delhi under Indian trust act. The objective is to create a workforce empowered with improved skills, knowledge and internationally recognized qualifications to gain access to decent employment and ensure India`s competitiveness in the dynamic Global Labour market.
Placements
We help our students get placed in the best IT companies in the world.