Affiliate Marketing
Publishers can make money through affiliate marketing by employing an affiliate link to promote goods or services that are sold by other businesses. The affiliate partner receives payment for helping the shop or advertiser reach their goal. Usually, a sale is the outcome. But, some affiliate marketing organizations can pay you for leads, free-trial users, website clicks, or app downloads. If done correctly, an efficient affiliate marketing approach can transform from a side gig into a lucrative online company concept by bringing in a respectable amount of money.
Course Overview
You will find out how to use social media marketing effectively in this free online course. This SOFTEN TECHNOLOGIES course will teach you the fundamentals of social media marketing and introduce you to all the major social media sites. You will receive training on the fundamentals of Pinterest, LinkedIn, Facebook, Instagram, Twitter, and YouTube. Also, you will receive complete placement support in Kochi.
The applicants in this course learn how to comprehend social media marketing trends by utilizing social media sites and consumer profiling market research. The top software training center in Kerala is providing offline classes for this social media marketing course. Both one-on-one and small group training options are offered. Students who complete this course will have learned how to use the major social media tools technically as well as best practices for developing content that will drive significant traffic, encourage user involvement, and result in sales on social media platforms.
Social media platforms offer a variety of technologies with integrated data analytics capabilities that let businesses monitor the development, success, and engagement of marketing efforts.
The exciting Social Media Marketing certification course we provide at SOFTEN TECHNOLOGIES is supported by years of expertise and gives you the power of knowledge. the ability to comprehend audiences, methods, and tools. the ability to forge a path to achievement in your profession. The wizards who assist you learn the spells (techniques) for you to create your magic in the social world that motivates people to follow the three coveted words "Like, Comment, and Share" are our advanced Social Media Marketing certification courses, exceptional training, and the best industry experts.
We provide one of the top social media marketing certification programmes in Mumbai, supported by agency expertise, so you can learn while still being sociable. This certification course provides you with the instruction you need to speak the internet community's language so fluently that it sounds like a tune that people "Just can't get enough" of. Through these certification programmes, we offer fine training for all social media platforms in Mumbai, from tweets that Twitter sends out to posts that glitter on the feed, to ensure that you always stay on top.
It is crucial for contemporary firms to recognise the value of having a strategic social media presence. Social media has developed to function as the glue that holds together and enriches a digital marketing strategy and the whole brand experience for customers, from enabling a channel to directly communicate with consumers to offering insight into buying behavior to increasing SEO results.
The consumer and their marketing journey through the phases of awareness, intent, conversion, and finally retention are at the centre of marketing. Students in this course will discover how digital has transformed interactions between businesses and customers along the way. Digital marketing provides effective methods for interacting with customers at each stage of the funnel: online display ads increase awareness, search listings connect with people who are actively looking to buy, e-commerce speeds up the conversion process, and social media both engages and keeps customers.
This social media marketing course will teach you how to use different social media platforms, as well as their tools and tactics, with the goal of developing you into a skilled user of social media marketing techniques.
Anybody who wants to understand social media better, including business owners, executives, marketing specialists, and students, should take this course.
After completing the course, you will be able to: Create a social media marketing plan that meets your needs; Use social media marketing initiatives that are effective. Increase business recognition by utilising a variety of social media platforms, Create connections with your target audience and encourage interaction.
Soften Technologies is the No. 1 Frontrunner professional IT training Company in Kerala. We are having 12 plus years of experience in this sector and is distinguished from a mediocre one by factors like alumni, track records, facilities, and faculty members. Soften trained above thirty thousand plus satisfied IT experts.
We have well-structured courses and effective training methodology. The curriculum must cover different spectrums of the industry and provide the students with in-depth knowledge. Soften ensures quality and updated training for every trainee to cope with the ever-updating IT industry. Even after the completion of your course, the materials that you have been provided should act as a good technical reference.
Faculty members with core industry experience. All our trainers are IT professionals with having 7+ years of Industry Experience. They not only teach the course curriculum but also provide hands-on training to the students and enrich their learning with their own professional experiences. While choosing Soften, you can make a point to interact with the faculty to get to know them better as your career guide.
We Soften Technologies is your ticket to the corporate world. The objective of joining a course is to secure a coveted job which will advance your career. Our students are well placed across the globe. We are having a very good track record of placements. You can speak with our alumni directly to find out how we assist during an interview at a renowned enterprise.
We have well-equipped lab with the necessary facilities and amenities. State-of-the-art and modern infrastructure will enhance your educational experience and help you to hone your skills the right way.
Training Type
Batch Timings
For the latest training schedule, please Contact @ 8129701739
Weekdays    ( Monday -Friday )
Early Morning   (7.30-9.30) , (7.30-10.30)
Morning  ( 9 AM – 12 PM)
Afternoon ( 12-3 PM)
Evening ( 3PM – 5.30 PM), ( 3PM – 6 PM)
Weekend Batches
Saturday / Sunday  ( 7.30 AM – 3 PM), ( 9 –5 PM)
Fastrack
Based on Candidate's Requirement.
Training is available in small groups as well as on one-to-one basis.
STED COUNCIL (Scientific & Technical Education Development Council)
Affiliated to STED COUNCIL (NGO under NCT, New Delhi, Govt. of India.)
COLLABORATIVE PARTNER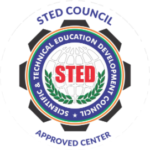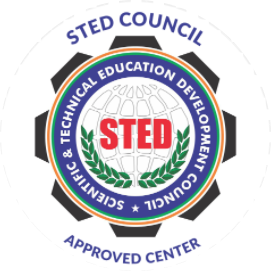 The STED council stays abreast with the update technologies and partner with the best in the industry to give quality education worldwide in global format.
The Merit Certificates issued by STED COUNCIL are accredited and recognized by globally renowned consultants, institutions and quality management, international accreditation organisations making certificate valid across the world and creating immense opportunities for each and every passing out student in the world job market
National Council for Technology & Training (NACTET)
Affiliated to NACTET
Authorized Training Partner
National Council for Technology and Training (NACTET) is an autonomous organization registered under Govt of Kerala and Government of India NCT, New Delhi under Indian trust act. The objective is to create a workforce empowered with improved skills, knowledge and internationally recognized qualifications to gain access to decent employment and ensure India`s competitiveness in the dynamic Global Labour market.
Placements
We help our students get placed in the best IT companies in the world.