What is Flutter?
Being an open source software development kit (SDK)Flutter is for the cross platform mobile applications development. It using a single code base to create beautiful, natively complied, multi-Platform apps.
Course Overview
Soften Technologies provides the best choice of studies in the usage of Flutter. Soften Technologies covers the areas like the usage of Flutter to quickly develop high quality, interactive Mobile applications for iOS and Android devices. Flutter is one of the Google 's portable UI Toolkit for to create the beautiful, applications for mobile, web, and desktop development. There is another existing codes in Flutter and is used to develop the Organizations around the world. The Flutter is an open source and it's free. Being an easy learning language without a familiarity in Flutter it can be easily used. It can be learned through the videos, reading Documentations and blogs and by practicing examples. Flutter is a perfect way to develop the quality applications and high velocity development. The individuals are free to enjoy the development of applications by using Flutters. It is one of the best leading mobile UI Framework to develop the high quality native interfaces on iOS and Android. The study structure in the area of Flutter easily helps to explore the mobile app development, a UX prototype, or helps to build beautiful applications both for the iOS and Android.
The eligible candidates with 50 % marks in degree and the basic computer Knowledge is required to complete the Flutter course in the most leading institute Soften Technologies. The major Attraction of soften Technologies is it provides the service of 100%of placement assistance and soften Technologies provides the facility of learning from the most experienced and expert talent of professionals. The students can easily have connected with the classes through both in online and offline. This facility of learning helped every student to learn from anywhere at any time. Soften Technologies offers a certification course with three to four months of duration. Flutter is the perfect option for those students who looking to make career as a cross platform developer. It is the perfect zone to create a successful candidate with more capabilities and competitive in the new world.
Course Topics
The correct guidelines in Flutter course opened wide varieties of opportunities to the students. Being one of the recently developed technology Flutter is very useful to the industries to develop apps. In Soften Technologies it is an internship program which Soften Technologies provides giving the correct guidance in the development of high quality, interactive Mobile applications for iOS and Android devices.
Topics Covered
Introduction to Flutter
Using Android Studio
Familiarization of Android SDK and Android Virtual Device(AVD)
XML string
Flutter Architecture </strong
Flutter widgets UI design
Google Map
Flutter widgets
UI Design
Flutter Silvers
Navigation and Routing
Flutter Rest API
SQ Lite Database
API Testing Using postman
Flutter Testing
Soften Technologies is the No. 1 Frontrunner professional IT training Company in Kerala. We are having 12 plus years of experience in this sector and is distinguished from a mediocre one by factors like alumni, track records, facilities, and faculty members. Soften trained above thirty thousand plus satisfied IT experts.
We have well-structured courses and effective training methodology. The curriculum must cover different spectrums of the industry and provide the students with in-depth knowledge. Soften ensures quality and updated training for every trainee to cope with the ever-updating IT industry. Even after the completion of your course, the materials that you have been provided should act as a good technical reference.
Faculty members with core industry experience. All our trainers are IT professionals with having 7+ years of Industry Experience. They not only teach the course curriculum but also provide hands-on training to the students and enrich their learning with their own professional experiences. While choosing Soften, you can make a point to interact with the faculty to get to know them better as your career guide.
We Soften Technologies is your ticket to the corporate world. The objective of joining a course is to secure a coveted job which will advance your career. Our students are well placed across the globe. We are having a very good track record of placements. You can speak with our alumni directly to find out how we assist during an interview at a renowned enterprise.
We have well-equipped lab with the necessary facilities and amenities. State-of-the-art and modern infrastructure will enhance your educational experience and help you to hone your skills the right way.
Training Type
Batch Timings
For the latest training schedule, please Contact @ 8129701739
Weekdays    ( Monday -Friday )
Early Morning   (7.30-9.30) , (7.30-10.30)
Morning  ( 9 AM – 12 PM)
Afternoon ( 12-3 PM)
Evening ( 3PM – 5.30 PM), ( 3PM – 6 PM)
Weekend Batches
Saturday / Sunday  ( 7.30 AM – 3 PM), ( 9 –5 PM)
Fastrack
Based on Candidate's Requirement.
Training is available in small groups as well as on one-to-one basis.
STED COUNCIL (Scientific & Technical Education Development Council)
Affiliated to STED COUNCIL (NGO under NCT, New Delhi, Govt. of India.)
COLLABORATIVE PARTNER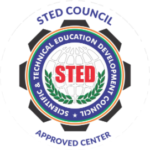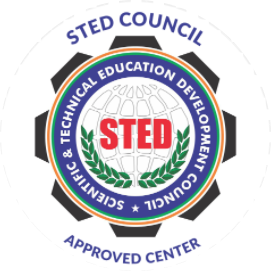 The STED council stays abreast with the update technologies and partner with the best in the industry to give quality education worldwide in global format.
The Merit Certificates issued by STED COUNCIL are accredited and recognized by globally renowned consultants, institutions and quality management, international accreditation organisations making certificate valid across the world and creating immense opportunities for each and every passing out student in the world job market
National Council for Technology & Training (NACTET)
Affiliated to NACTET
Authorized Training Partner
National Council for Technology and Training (NACTET) is an autonomous organization registered under Govt of Kerala and Government of India NCT, New Delhi under Indian trust act. The objective is to create a workforce empowered with improved skills, knowledge and internationally recognized qualifications to gain access to decent employment and ensure India`s competitiveness in the dynamic Global Labour market.
Placements
We help our students get placed in the best IT companies in the world.