Management Accounting
Management accounting is a branch of accounting that focuses on providing financial information to managers within organizations to aid them in making better business decisions. This information is tailored to the needs of the management team and is used to support planning, controlling, and decision-making activities. Management accounting provides insight into the financial health of a company by tracking and analyzing its expenses, revenues, and profits.
The primary objective of management accounting is to provide timely and accurate financial information to managers to help them make informed decisions. In summary, management accounting is a crucial tool for any organization that wants to make informed financial decisions.
Course Overview
Management Accounting is a specialized field of accounting that focuses on providing information to internal stakeholders, such as managers and executives, to assist them in making informed decisions for the organization. The course covers a wide range of topics, including cost analysis, budgeting, performance evaluation, and decision-making techniques. The course is essential for individuals who aspire to become management accountants or those who are interested in learning about the role of accounting in management.
The course begins by introducing students to the fundamental concepts of management accounting, including cost behavior, cost-volume-profit analysis, and relevant costing. Students learn how to use cost data to make informed decisions, such as pricing and product mix decisions. They also gain an understanding of how to calculate and interpret financial ratios and other performance measures to evaluate the organization's performance.
The course also covers budgeting, which is a critical component of management accounting. Students learn how to prepare budgets, analyze variances, and use budgeting to control costs and manage resources effectively. They also learn about the importance of continuous monitoring and evaluation of performance against the budget and how to adjust plans accordingly.
Another important aspect of management accounting is decision-making techniques. Students learn about various tools and techniques used to make informed decisions, including cost-benefit analysis, breakeven analysis, and sensitivity analysis. They also gain an understanding of the importance of ethical considerations when making decisions.
In addition to the theoretical concepts, the course provides students with practical experience in using management accounting tools and techniques. Students work on case studies, group projects, and simulations, which allow them to apply the concepts they have learned in real-world situations. This hands-on experience helps students develop critical thinking and problem-solving skills, which are essential for success in management accounting.
Upon completion of the course, students should be able to use management accounting information to make informed decisions, prepare and analyze budgets, evaluate performance, and apply decision-making techniques. They should also be able to communicate effectively with other stakeholders, such as managers, executives, and employees, to ensure that everyone has a clear understanding
Course Topics
Management accounting is a crucial aspect of modern business operations. It involves the collection, analysis, and interpretation of financial data to aid in decision-making and improve organizational performance. The course covers a wide range of topics, including cost accounting, budgeting, financial analysis, and performance management.
Cost accounting is a critical area in management accounting, which focuses on the analysis of the costs associated with producing a product or service. This analysis helps businesses to determine the most cost-effective methods of production and identify areas where costs can be reduced.
Budgeting is another key area of management accounting. It involves the preparation of financial plans that outline expected revenues and expenses for a particular period. Budgets are essential tools for businesses as they help to ensure that financial resources are allocated effectively and efficiently.
Financial analysis is also an integral part of management accounting. It involves the interpretation of financial data to identify trends and patterns that can be used to improve organizational performance. Financial analysis provides businesses with valuable insights into their financial position and helps them to make informed decisions about investments and other financial matters.
This process helps businesses to identify areas where performance can be improved and take corrective action when necessary. Performance management also involves measuring and evaluating the performance of employees to ensure that they are contributing to the overall success of the organization.
Soften Technologies is the No. 1 Frontrunner professional IT training Company in Kerala. We are having 12 plus years of experience in this sector and is distinguished from a mediocre one by factors like alumni, track records, facilities, and faculty members. Soften trained above thirty thousand plus satisfied IT experts.
We have well-structured courses and effective training methodology. The curriculum must cover different spectrums of the industry and provide the students with in-depth knowledge. Soften ensures quality and updated training for every trainee to cope with the ever-updating IT industry. Even after the completion of your course, the materials that you have been provided should act as a good technical reference.
Faculty members with core industry experience. All our trainers are IT professionals with having 7+ years of Industry Experience. They not only teach the course curriculum but also provide hands-on training to the students and enrich their learning with their own professional experiences. While choosing Soften, you can make a point to interact with the faculty to get to know them better as your career guide.
We Soften Technologies is your ticket to the corporate world. The objective of joining a course is to secure a coveted job which will advance your career. Our students are well placed across the globe. We are having a very good track record of placements. You can speak with our alumni directly to find out how we assist during an interview at a renowned enterprise.
We have well-equipped lab with the necessary facilities and amenities. State-of-the-art and modern infrastructure will enhance your educational experience and help you to hone your skills the right way.
Training Type
Batch Timings
For the latest training schedule, please Contact @ 8129701739
Weekdays    ( Monday -Friday )
Early Morning   (7.30-9.30) , (7.30-10.30)
Morning  ( 9 AM – 12 PM)
Afternoon ( 12-3 PM)
Evening ( 3PM – 5.30 PM), ( 3PM – 6 PM)
Weekend Batches
Saturday / Sunday  ( 7.30 AM – 3 PM), ( 9 –5 PM)
Fastrack
Based on Candidate's Requirement.
Training is available in small groups as well as on one-to-one basis.
STED COUNCIL (Scientific & Technical Education Development Council)
Affiliated to STED COUNCIL (NGO under NCT, New Delhi, Govt. of India.)
COLLABORATIVE PARTNER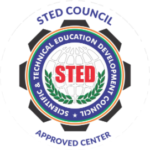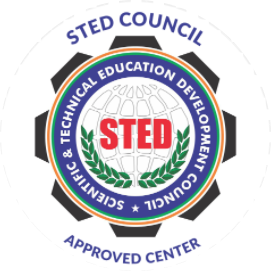 The STED council stays abreast with the update technologies and partner with the best in the industry to give quality education worldwide in global format.
The Merit Certificates issued by STED COUNCIL are accredited and recognized by globally renowned consultants, institutions and quality management, international accreditation organisations making certificate valid across the world and creating immense opportunities for each and every passing out student in the world job market
National Council for Technology & Training (NACTET)
Affiliated to NACTET
Authorized Training Partner
National Council for Technology and Training (NACTET) is an autonomous organization registered under Govt of Kerala and Government of India NCT, New Delhi under Indian trust act. The objective is to create a workforce empowered with improved skills, knowledge and internationally recognized qualifications to gain access to decent employment and ensure India`s competitiveness in the dynamic Global Labour market.
Placements
We help our students get placed in the best IT companies in the world.