Why Artificial Intelligence (AI)
Artificial intelligence is the future of the world. These days, every app, every website is employing Artificial intelligence for most of its functions. They are used for face recognition locks, to register and verify your security for transactions, and, for late, even put your face on various characters in gaming and non – gaming apps. Artificial intelligence makes it all possible and more. Artificial intelligence is a useful skill keep under your belt, especially since it was all the range right now, as the dot – com boom a few years ago. Employers are looking for people with diverse skill sets, expressly those who can help their companies into the next generation.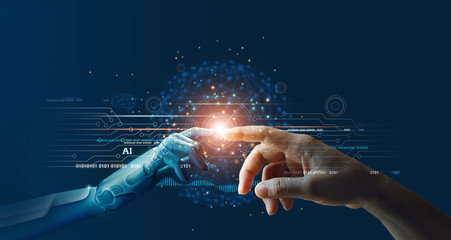 Course Overview
Keeping this need in mind, the Soften Technologies Kerala's best software training institute has designed the Certificate program in Artificial intelligence to upskill and train professionals in the world's most in demand programming language.
This six months to one year program, delivered through online sessions by leading Soften Technologies faculty and industry experts, will enable participants to leverage AI for automation, better decision – making , and competitive advantage. Participants will also get a comprehensive understanding of popular methods like classification and regression, optimization techniques, neural networks, decision tress, agent – based models, and deep convolutional networks.
Soften Technologies offers a comprehensive Artificial Intelligence program that will help you work on today cutting – edge technology Artificial Intelligence. As part of this best AI training, you will master various aspects of artificial neural networks, supervised and unsupervised learning, logistic regression with a neural network mindset, binary classification, vectorization, python for scripting Machine learning applications, and much more.
For pursuing Artificial Intelligence course, candidates should successfully complete Degree from a recognized university. The aggregate score in the university exam should be a minimum 60%. The candidates who hold bachelor's degree in engineering are eligible to do a Master's degree in Artificial intelligence courses.
Artificial intelligence is drastically important to our future because Artificial intelligence form the very foundation of computer learning. Artificial intelligence is becoming responsible for everything from medical breakthroughs in cancer research to cutting – edge climate change research. Artificial intelligence is impacting the future of virtually every industry and every human being. Artificial intelligence has acted as the main driver of emerging technologies like big data, robotics and IoT, and it will continue to act as a technological innovator for the foreseeable future. Artificial intelligence is drastically important to our future because Artificial intelligence forms the very foundation computer learning. Through Artificial intelligence, computers have the ability to harness massive amounts of data and use their learned intelligence to make optimal decisions and discoveries in fractions of the time that it would take humans. Artificial intelligence promises to deliver some of the most significant and disruptive innovations of this century. Self-driving cars, robotic assistance, and automated disease diagnosis are all products of an emerging AI revolution that will reshape future.
We provide 100% placement assistance for our students.
And with the demand for talented engineers more than doubling in the last few years, there are limitless opportunities for professionals who want to work on the cutting edge of AI research and development.
The main goal of this internship is to familiarize you with all aspects of AI, so you can start your career as an artificial intelligence engineer.
AI job roles are spread across divers industries such as Healthcare, Education, Agriculture, Logistics, Automobile and others. There are wide scope for AI, some of them are; business intelligence developer, AI engineer, machine learning engineer, robotic scientist, data scientist, computer vision engineer and many more.
Course Topics
Artificial intelligence is a transformative technology, generally refers to the ability of digital computing devices that can perform tasks commonly associated with intelligent beings. Through this module, learners will gain a holistic view of AI landscape from its humble origin to bleeding edge technologies and applications of today.
Learners will be introduced to historically significant AI systems and their underlying AI concepts. They will explore different classical and modern AI techniques, and understand the three essential ingredients that drive modern AI, i.e., Big Data, Big Compute, and Advanced Algorithms. Learners will also examine the ethical and legal aspects of AI technologies as well as the exciting future trends.
Fundamentals
Programming Fundamentals and Database Fundamentals
Data Engineering Fundamentals
Statistical Learning Theory
Cloud Computing Fundaments
Intermediary (Specializing with Tools)
Specialization based on Microsoft Azure Cloud
Classical Machine Learning Algorithms and Frameworks
Artificial Neural Network and Deep Learning
Machine Learning Pipeline via Cloud Environment (MS Azure)
Cloud native Cognitive Services(Vision, NLP & Speech) (MS Azure)
Project ( Real World Project )
AI Project Methodologies
Project Plan, Development, Deployment and Maintenance
Soften Technologies is the No. 1 Frontrunner professional IT training Company in Kerala. We are having 12 plus years of experience in this sector and is distinguished from a mediocre one by factors like alumni, track records, facilities, and faculty members. Soften trained above thirty thousand plus satisfied IT experts.
We have well-structured courses and effective training methodology. The curriculum must cover different spectrums of the industry and provide the students with in-depth knowledge. Soften ensures quality and updated training for every trainee to cope with the ever-updating IT industry. Even after the completion of your course, the materials that you have been provided should act as a good technical reference.
Faculty members with core industry experience. All our trainers are IT professionals with having 7+ years of Industry Experience. They not only teach the course curriculum but also provide hands-on training to the students and enrich their learning with their own professional experiences. While choosing Soften, you can make a point to interact with the faculty to get to know them better as your career guide.
We Soften Technologies is your ticket to the corporate world. The objective of joining a course is to secure a coveted job which will advance your career. Our students are well placed across the globe. We are having a very good track record of placements. You can speak with our alumni directly to find out how we assist during an interview at a renowned enterprise.
We have well-equipped lab with the necessary facilities and amenities. State-of-the-art and modern infrastructure will enhance your educational experience and help you to hone your skills the right way.
Training Type
Batch Timings
For the latest training schedule, please Contact @ 8129701739
Weekdays    ( Monday -Friday )
Early Morning   (7.30-9.30) , (7.30-10.30)
Morning  ( 9 AM – 12 PM)
Afternoon ( 12-3 PM)
Evening ( 3PM – 5.30 PM), ( 3PM – 6 PM)
Weekend Batches
Saturday / Sunday  ( 7.30 AM – 3 PM), ( 9 –5 PM)
Fastrack
Based on Candidate's Requirement.
Training is available in small groups as well as on one-to-one basis.
STED COUNCIL (Scientific & Technical Education Development Council)
Affiliated to STED COUNCIL (NGO under NCT, New Delhi, Govt. of India.)
COLLABORATIVE PARTNER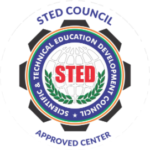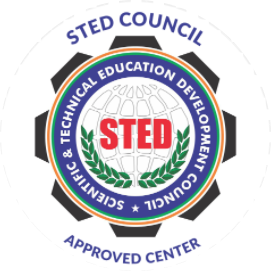 The STED council stays abreast with the update technologies and partner with the best in the industry to give quality education worldwide in global format.
The Merit Certificates issued by STED COUNCIL are accredited and recognized by globally renowned consultants, institutions and quality management, international accreditation organisations making certificate valid across the world and creating immense opportunities for each and every passing out student in the world job market
National Council for Technology & Training (NACTET)
Affiliated to NACTET
Authorized Training Partner
National Council for Technology and Training (NACTET) is an autonomous organization registered under Govt of Kerala and Government of India NCT, New Delhi under Indian trust act. The objective is to create a workforce empowered with improved skills, knowledge and internationally recognized qualifications to gain access to decent employment and ensure India`s competitiveness in the dynamic Global Labour market.
Placements
We help our students get placed in the best IT companies in the world.